Contesto has been selected as the solution provider for Höegh LNG's implementation of their new DMS system. The solution includes OpenText eDOCS DM, with a tight integration to Microsoft Office 365. This best-in-class solution will provide Höegh LNG with an efficient, secure and flexible solution for handling documents and other unstructured information.
Höegh LNG was looking for a group wide solution for document handling. The solution will encourage cooperation and one way of working, support our compliance initiatives and be an integrated part of our IT application portfolio.
With Contesto as partner we expect solid implementation, customized access and archive structure for all divisions and locations in our company.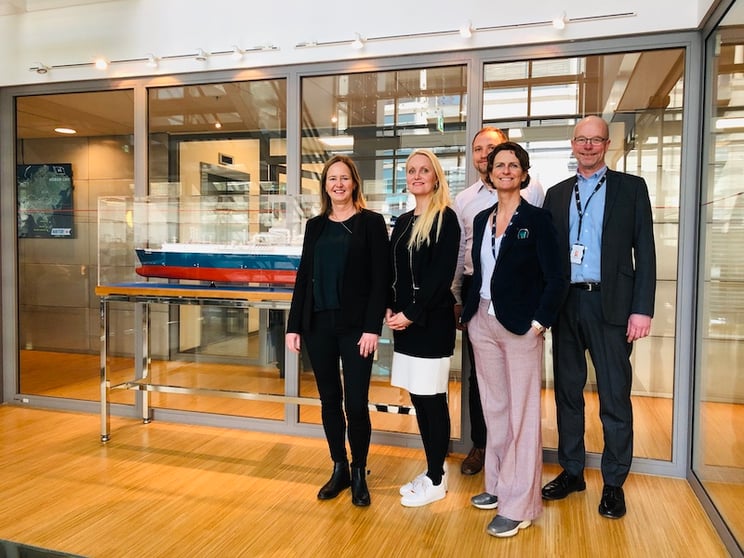 Christine Brandtzæg, Gunn Kristin Saltvik and Bjørn Corneliussen from Contesto, Inger-Lise Josefsen and Ragnar Wisløff from Höegh LNG.
"We at Contesto are proud and happy to be chosen as a partner for Höegh LNG," says Gunn Kristin Saltvik, sales manager at Contesto AS. "Our team brings 16 years of industry experience in successfully delivering DMS solutions in many different verticals, including customers in the oil and rig industry. We look forward to helping Höegh LNG reach the efficiency and quality goals they have established for this project. "
Höegh LNG operates world-wide with a leading position as owner and operator of floating LNG import terminals; floating storage and regasification units (FSRUs), and is one of the most experienced operators of LNG Carriers (LNGCs). Höegh LNG's vision is to be the industry leader of floating LNG solutions.